Posted by acusumano in : Assignments , add a comment
As anyone can have their own blog, it's only fitting that news itself has become a much more collaborative process given all the new technology that bridges the gap between citizens and the media elite. Even sites as prominent as CNN now rely heavily on readers submitting news stories and videos. This global sharing process, dubbed "crowdsourcing," creates a more transparent news environment, so the cream rises to the top.
I don't necessarily agree with the "everyone can be a journalist now" mentality–it takes a certain amount of skill and more than just finding news to qualify for that title in my view–but I do like this new collaborative attitude. With so many avenues of news and distractions, it makes perfect sense to connect with readers by involving them in the process.
Similarly, news organizations are utilizing a more open-sourced method of reporting that, while not entirely transparent, allows readers to have a more thorough part in the process, from providing news to commenting on it. Just about any YouTube comments page will showcase the dangers of allowing audiences to share their thoughts on content, but readers tend to appreciate the possibility of being heard.
Any organization that does not embrace collaborative publication will have difficulty maintaining reader interest. In our fame-obsessed culture, there's nothing like seeing your name attributed to a story.
Posted by acusumano in : Assignments , add a comment
Introduction
Although print journalism is hardly the dominant force it once was, journalism is arguably thriving more strongly than ever. The Internet and cable networks have provided a goldmine of opportunity for budding journalists, but with it are new and ever-changing demands from audiences. A news site cannot simply get by on posting traditional news; it must utilize a multitude of formats to keep readers from clicking to the competition.
Chapter One
Setting up a blog might seem intimidating, as there are literally millions out there and it's not easy to stand out. This chapter is an overview of the basic techniques to start a blog and the best ways to get the most out of blogs you read. You can subscribe to feeds and utilize all sorts of methods to transfer your own files online. The better informed you are about other online content, the more likely your blog will be a worthwhile visit for people.
This chapter dives heavily into the technical construction of web pages. Before you begin to even browse the Internet, you need to select a browser–I personally like Mozilla Firefox. From there, you have several ways to create the optimal Web experience:
Set up a RSS feed to keep track of the news you care about. This is a great method of following world events in all different areas without cluttering your inbox or doing the same searches over and over.
To upload your content to the Web, download a FTP client such as SmartFTP. This video tutorial, created by membershipsfusion.com, shows you how to transfer content:

Learn HTML–there are countless websites that can help you out with just about any coding you need.
Chapter Two
This chapter takes a look at why blogs surged into an important part of journalism and informs readers how to get their own blogs quickly on the right track. It's important to create a unique, eye-pleasing design for your blog and to maintain the audience's interest with frequent posts, interaction and an organized, authoritative setup.
It's not enough anymore to be the first to report on a story–it's all about the page views. Fortunately–or perhaps unfortunately–the success of a blog depends entirely on its author(s). If the content is strong, frequent and interesting to readers, a blogger should have no difficulty in keeping "return customers." But the online audience is a fickle bunch, and if they find another source that delivers stories faster and in a more appealing manner, you'll lose those readers.
Put the reader first at all times. Don't waste words, use eye-catching ways to help readers scan and always provide plenty of links.
Posted by acusumano in : Uncategorized , add a comment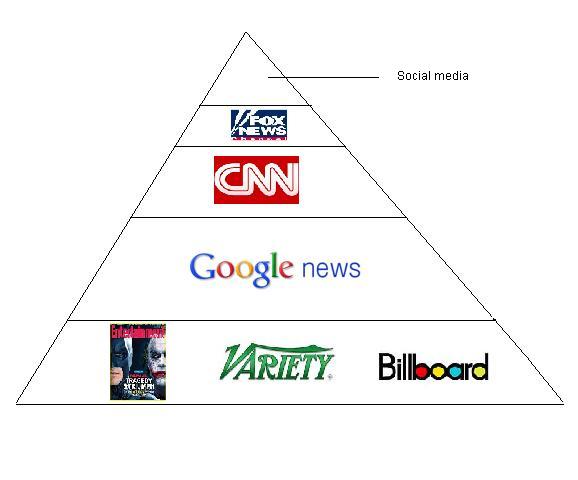 As an aspiring pop culture journalist, I feel it's especially important to keep abreast of what's going on in the entertainment world. That's why magazines like Entertainment Weekly (and its companion website), Variety and Billboard are all daily reads/visits for me. In particular, I keep track of the two subjects I write about the most–rock music and the TV show "Survivor."
Google News is a great tool because I can easily find all the relevant news on these favorite topics, and the homepage helps me get a quick look at what's going on in just about every subject one should be versed in when it comes to current events (world news, politics, sports, etc.). Usually if something particularly interesting or shattering comes along, I'll immediately trek to the CNN website to get an in-depth (and comparatively balanced) report.
But when I'm not looking for balance, I have to turn to Fox News (though I rarely read its website). This is a habit I inherited from my father, a big Bill O'Reilly fan. However, unlike my dad, I'm not merely looking for a channel that will only reinforce my beliefs, but challenge them. I agree with some of the decidedly conservative values the network has but those are few and far between, and I like to get alternate perspective. Plus, there's nothing like watching Glenn Beck rant and cry.
At the top of the pyramid, I included social media. I've often been accused of being way behind when it comes to this; I didn't sign up for a Facebook account until I was forced to as part of a group project for a class. I see the value in these sort of tools but usually only log in as a reactionary measure to see what people are saying about the news; not to learn it.